ATTILA
To Celebrate 10 Years of Seminal Album With
ABOUT THAT LIFE 10-YEAR ANNIVERSARY TOUR
Hitting Europe, UK And USA This Summer
Tickets For US Shows On General Sale Friday, May 12th At 10am Local Time
Tickets For EU/UK Shows Are On Sale Now
Buy HERE
Monday, May 8th, 2023 – Get ready to raise hell and party like there's no tomorrow! Atlanta's most notorious dealers of metalcore brutality, ATTILA, are proud to announce the 'About That Life 10-Year Anniversary Tour'. In celebration of their seminal 2013 album, which the band will be playing in it's entirety for the first time ever, ATTILA will ignite stages across the US, Europe and the UK this summer, delivering their unique brand of high-energy performance and feel good party vibes to 56 cities across 13 countries. As well as playing 'About That Life' in full, the set will also feature several fan-favourite hits from across ATTILA's catalog, making this tour an absolute must-see event.

Tickets for the "About That Life 10-year Anniversary Tour" will go on general sale at 10am local this Friday, May 12th, for full info and to purchase, head to Attilaband.com.

Speaking on today's announcement, ATTILA share

"We're excited to announce our About That Life world tour! ATL was a groundbreaking album for Attila so it's only right that we celebrate its 10 year anniversary by raising hell across the globe! We will be playing the entire album front to back for the first time ever. We've got a great lineup with us, this will be a special tour you won't wanna miss. Let's party!"

The About That Life 10-Year Anniversary Tour kicks off on June 23, 2023, in Ysselsteyn, The Netherlands, at the iconic Jera On Air festival. From there, Attila will ravage cities throughout Germany, France, Spain, Italy, Switzerland, Austria, Romania, Czech Republic, Slovakia, Belgium, and the United Kingdom, including stops in Paris, London, Edinburgh, and more. The adrenaline-fueled journey will culminate in London at The Underworld on July 21, 2023.

ATTILA will then embark on a scorching tour across the United States, hitting cities from coast to coast. Kicking off on September 10, 2023, at the Blue Ridge Rock Fest in Alton, VA, the band will hit major cities including New York, Columbus, Denver, Seattle, Los Angeles, and many others. The tour will conclude with a bang in the band's home town of Atlanta, GA, at Terminal West on October 20, 2023. Full Routing below.

Joined by an impressive lineup of special guests, ATTILA guarantees an unforgettable live experience at these upcoming shows. Joining them in Europe will be Born Of Osiris, Paledusk, Polar, UnityTX, and Our Hollow, Our Home making special appearances on certain dates. For the US run, Attila will be joined by Gideon, Ten56 and Until I Wake.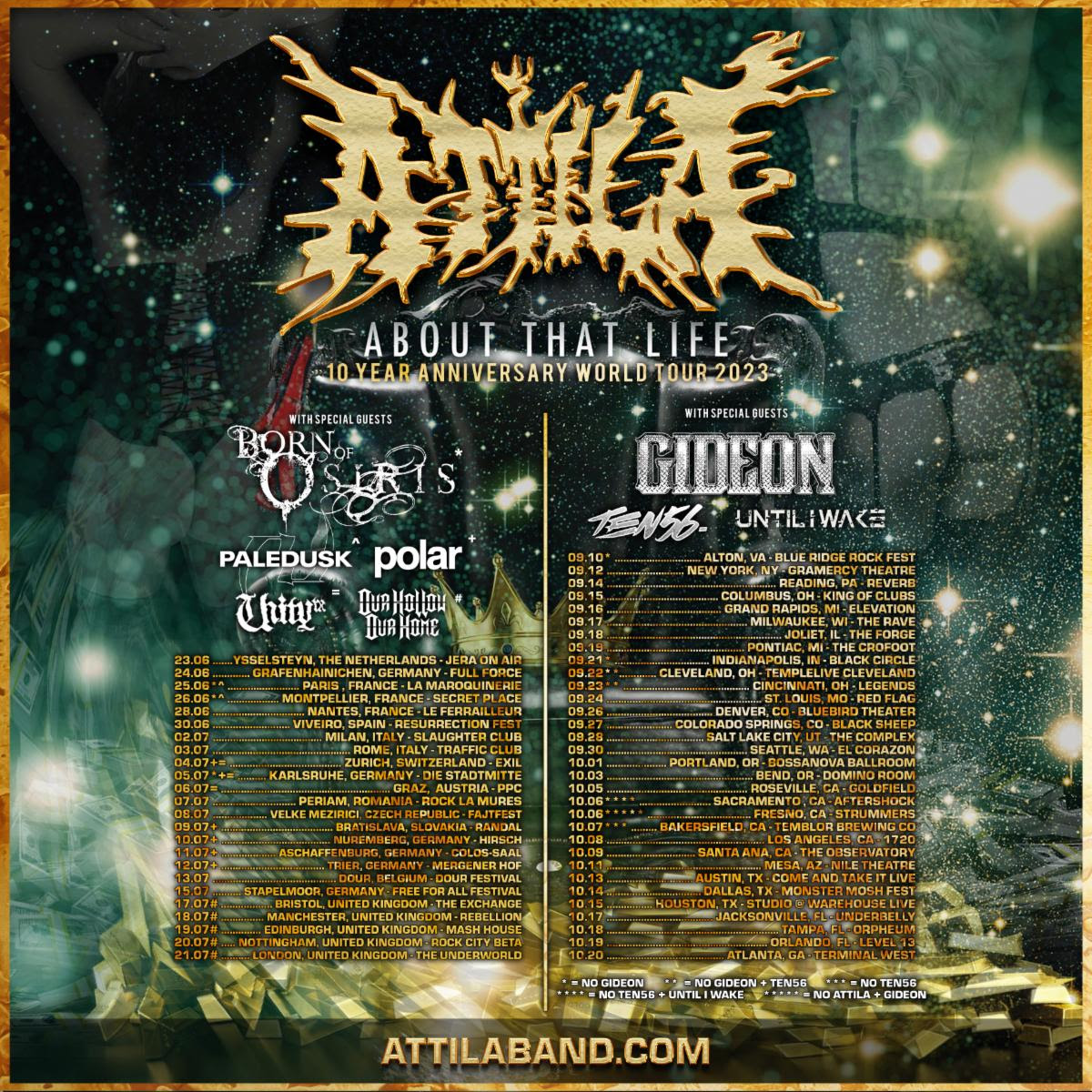 ABOUT THAT LIFE 10-YEAR ANNIVERSARY TOUR ROUTING

EUROPE

Special Guests:

* Born Of Osiris (co-headline), ^ Paledusk, + Polar, = UnityTX, # Our Hollow, Our Home

23.06.23 The Netherlands Ysselsteyn @ Jera On Air

24.06.23 Germany Gräfenhainichen @ Full Force

25.06.23 France Paris @ La Maroquinerie *^

26.06.23 France Montpellier @ Secret Place *^

28.06.23 France Nantes @ Ferrailleur

30.06.23 Spain Viveiro @ Resurrection Fest

02.07.23 Italy Milan @ Slaughter Club

03.07.23 Italy Rome @ Traffic Club

04.07.23 Switzerland Zurich @ Exil +=

05.07.23 Germany Karlsruhe @ Die Stadtmitte *+=

06.07.23 Austria Graz @ PPC =

07.07.23 Romania Periam @ Rock La Mures

08.07.23 Czech Republic Velke Mezirici @ Fajtfest

09.07.23 Slovakia Bratislava @ Randal +

10.07.23 Germany Nuremberg @ Hirsch +

11.07.23 Germany Aschaffenburg @ Colos-Saal +

12.07.23 Germany Trier @ Mergener Hof +

13.07.23 Belgium Dour @ Dour

15.07.23 Germany Stapelmoor @ Free For All Festival

17.07.23 UK Bristol @ The Exchange #

18.07.23 UK Manchester @ Rebellion #

19.07.23 UK Edinburgh @ Mash House #

20.07.23 UK Nottingham @ Rock City Beta #

21.07.23 UK London @ The Underworld #

USA

Special Guests

* = No Gideon, ** = No Gideon + ten56, *** = No ten56, **** = No ten56. + Until I Wake, ***** = No Attila + Gideon

Sun. Sept. 10 – Alton, VA – Blue Ridge Rock Fest *

Tue. Sept 12 – New York, NY – Gramercy Theatre

Thu. Sept. 14 – Reading, PA – Reverb

Fri. Sept. 15 – Columbus, OH – King Of Clubs

Sat. Sept. 16 – Grand Rapids, MI – Elevation

Sun. Sept. 17 – Milwaukee, WI – The Rave

Mon. Sept. 18 – Joliet, IL – The Forge

Tue. Sept. 19 – Pontiac, MI – The Crofoot

Thu. Sept. 21 – Indianapolis, IN – Black Circle *

Fri. Sept. 22 – Cleveland, OH – TempleLive Cleveland **

Sat. Sept. 23 – Cincinnati, OH – Legends **

Sun. Sept. 24 – St. Louis, MO – Red Flag

Tue. Sept. 26 – Denver, CO – Bluebird Theater

Wed. Sept. 27 – Colorado Springs, CO – Black Sheep

Thu. Sept. 28 – Salt Lake City, UT – The Complex

Sat. Sept. 30 – Seattle, WA – El Corazon

Sun. Oct. 1 – Portland, OR – Bossanova Ballroom

Tue. Oct. 3 – Bend, OR – Domino Room

Thu. Oct. 5 – Roseville, CA – Goldfield

Fri. Oct. 6 – Sacramento, CA – Aftershock ****

Fri. Oct. 6 – Fresno, CA – Strummers *****

Sat. Oct. 7 – Bakersfield, CA – Temblor Brewing Co ***

Sun. Oct. 8 – Los Angeles, CA – 1720

Mon. Oct. 9 – Santa Ana, CA – The Observatory

Wed. Oct. 11 – Mesa, AZ – Nile Theatre

Fri. Oct. 13 – Austin, TX – Come and Take It Live

Sat. Oct. 14 – Dallas, TX – Monster Mosh Fest

Sun. Oct 15 – Houston, TX – Studio @ Warehouse Live

Tue. Oct. 17 – Jacksonville, FL – Underbelly

Wed. Oct. 18 – Tampa, FL – Orpheum

Thu. Oct. 19 – Orlando, FL – Level 13

Fri. Oct. 20 – Atlanta, GA – Terminal West
from
Faygoluvers